Description
This product is a bundled class set of 8 Non-contact Temperature Sensors our marketing departments demo inventory. There is only one set available.

Overview
The Non-Contact Temperature Sensor measures surface temperature by detecting the emitted infrared light. Record the temperature of objects without touching them!
Compare the temperature of different surfaces and compare the results based on composition and amount of direct sunlight.  Take a block of ice directly from a freezer and record the temperature as it warms and melts.  Then display the data on a temperature versus time graph.
With a high sampling rate and a large range of operable temperatures (from -70
°C to 380 ºC) the Non-Contact Temperature Sensor is suited for a wide array of quantitative experiments involving heat and temperature.
Typical Applications
Compare temperature of hands, skin, face and clothes
Measure the temperature of different outdoor ground surfaces
Map the temperature profile of an exterior wall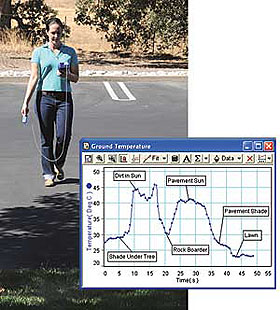 Specifications
Range
Accuracy

±

0.5 

°

C (blackbody object under typical conditions)

Response time
Max sample rate
Field of view