Description
Overview
For those who already have PASCO Dynamics Carts and wish to upgrade to a Dynamics System.
The PAScar 2.2 m Dynamics System (No Carts) is the most economical way to equip your lab with tracks for Newton's Laws, collisions, velocity and acceleration experiments. With accessories, you can expand your system to do additional experiments such as constant force with a fan cart, friction, and oscillations. Also, all PASCO Dynamics Systems are specifically designed to accommodate sensors for computer data acquisition.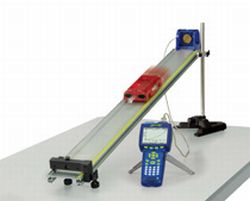 A motion detector allows for the motion of the cart (position, velocity & acceleration) to be measured in real time.
Features
The 2.2 m PAScar Dynamics System (No Carts) has unmatched versatility combined with high quality components:
PASCO's aluminum tracks combine durability with utility. The aluminum extrusion is rigid and light, yet straight. Each track includes a measuring tape for easily measuring displacements along its length. Grooves along the side of the track allow key accessories such as photogates, rod clamps and angle indicators to be attached.
How It Works
Few investments in physics lab equipment provide more learning opportunities than the Dynamics Systems — perfect for experiments in Newton's Laws, collisions, velocity and acceleration. Get the advantages of a very low-friction apparatus without the noise and expense of air tracks.
The sturdy aluminum track is available in either 1.2 m or 2.2 m lengths depending on your lab size and the experiments you wish to perform. This Dynamics set features the 2.2 m length track.
The newly redesigned feet and endstops have captured nuts which automatically align with the track T-slot, making it easy to slide them onto the track.
Includes
2.2 m Aluminum Track
Manual