Description
Age appropriate and editable activities in Earth, Life and Physical Science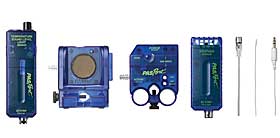 Teaching science to elementary school students can often prove difficult. But the key is not providing a watered down curriculum, but rather to teach real science at an age appropriate level.
Getting children to begin thinking critically, providing them with the tools to design experiments or predict the results of data collection before performing it and simply giving them a sense of scientific curiosity about the world around them are vital parts of a well rounded education.
At the heart of PASCO's Elementary School Introductory Science Experiments lab manual is a commitment to ensuring that students are engaged and learning before, during and after a lab activity. The many opportunities for student assessment allows you as a teacher to accurately gauge the understanding of your students.
29 inquiry based lab activities in the areas of earth, life and physical science are included and all of them can be edited to suit the needs of your classroom or to better coordinate with what you are already teaching. All the activities are age appropriate, including separate K-2 and 3-5 activities.
---
Features
Age appropriate and editable activities in Earth, Life and Physical Science.
"Key term challenge" increases vocabulary skills.
Student comprehension assessment provided throughout.
Related products:
Elementary School Science Standard Sensor Bundle (PS-2934)


---
Need to equip your lab?
View the Equipment List to see a complete list of the lab equipment needed to perform all the Elementary School Science activities.
Licensing Information
This product carries a classroom license. See
Licensing Details for more information.