Description
This unique clamp fits any rod up to 12.7 mm (1/2 in.) diameter and can lock the rod in place at any angle.
How it works
The Adjustable Angle Rod Clamp has two three parts: a fixed rod clamp on one end, a rod clamp that swivels on the other, and a locking knob in between them. Attach the fixed rod clamp to a base rod (up to 12.7 mm in diameter). Loosen the locking knob and rotate the swiveling rod clamp to the desired position. Tighten the locking knob against the  swiveling rod clamp until it no longer rotates. Place an additional rod into the swiveling rod clamp and secure with the thumbscrew.
The swiveling rod clamp can be removed and replaced with a piece of equipment, such as a sensor, that has a 1/4-20″ thread.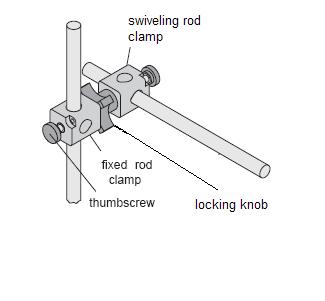 ---
Support Documents