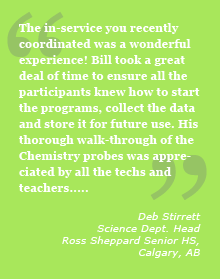 1.877.967.2726
Teacher Centered – Solution Oriented – Technology Based
Welcome to PASCO Canada
The PASCO Canada division of AYVA Educational Solutions offers PASCO's full range of equipment for physics, engineering and science.

AYVA Educational Solutions was launched in 2008 as the exclusive Canadian distributor for PASCO Scientific. We are proud to have been chosen to represent this world-class company in Canada and are dedicated to supporting our loyal customers. PASCO is the global expert in science education. For over 50 years, PASCO has been designing and supporting innovative education technology solutions including traditional physics apparatus as well as datalogging equipment for the sciences for secondary and university level courses.

PASCO technologies are at the heart of a 21st century science program, enabling inquiry-based learning and exposing students to the tools of modern science and technology careers. From sensors to collect real-time data to software for data visualization and analysis, interactive lab activities, and lab equipment — PASCO's solutions are designed to work together for an effective learning experience.

Read PASCO Scientific's press release about PASCO Canada.

Click here or call us at 1-877-967-2726 to learn more.

AYVA Educational Solutions •
www.ayva.ca

18-1400 Cornwall Rd. Oakville, ON L6J 7W5 • Phone: 1-877-967-2726 • Fax: 1-877-807-2726