Description
PASCO's EcoZone System is designed to help students model and understand the complex interactions within, and among, different ecosystems. The three clear acrylic EcoChambers are specially designed to accommodate PASCO sensors, making qualitative and quantitative measurements as easy as observing.
Don't spend valuable time on set up and clean up! Cutting two liter soda bottles, removing labels, poking holes, connecting chambers – all of this is done for you! Eliminate the wasted time in setting up ecosystems and utilize it to study the ecosystem instead. Clean up is easy, and the chambers are durable enough to use again and again. The unique design of the PASCO EcoZone System allows you to use your environmental science probes to actively measure a model ecosystem.
---
What makes this system truly unique?
Your measurements have minimal impact on the system because it
remains closed!
Custom built to easily interface with PASCO's line of sensors and interfaces.
Decouple the EcoChambers for individual studies of single ecosystems.
With three interconnected chambers, students can model the interaction between three different ecosystems. Choose the traditional terrestrial, aquatic, and decomposition arrangement or create unique biomes to model and measure. Decouple the system for isolated investigations – how does the availability of light affect the ecosystem? Students can create two identical ecosystems and monitor one in light conditions and one in dark.
The openings within the chambers allow air to circulate between the chambers, and the included cord efficiently 'wicks' water between the chambers. Additionally, ions are transported through the cord, so materials move from the terrestrial chamber too!
What about chemical analysis?
With the included syringe, you can extract a small amount of water for chemical testing with the PASCO ezSample™ test kits. The syringe can also be used to replenish water if the levels are too low to sustain life, or if students want to inject a pollutant into the environment and monitor its effect.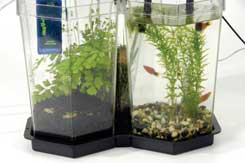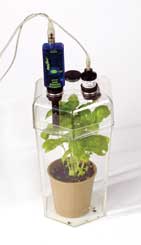 ---
Features
Custom molded for use with PASCO sensors
Quantitatively study the interaction of different ecosystems
Sturdy construction designed for easy setup and cleanup
Total volume of each chamber is 4534 cubic centimeters


---
Applications
Construct a traditional ecosystem of interconnected aquatic, terrestrial, and decomposition chambers.
Construct a single biome such as a desert, tundra or man-grove biome.
Use a single chamber to study photosynthesis, fermentation or greenhouse gases.


---
What's Included
1x

 

Three individual EcoChambers with lids

1x

 

Custom tray for holding EcoChambers in a connected ecosystem

1x

 

Stoppers and connectors

1x

 

Cotton wick

1x

 

Syringe and plastic tubing